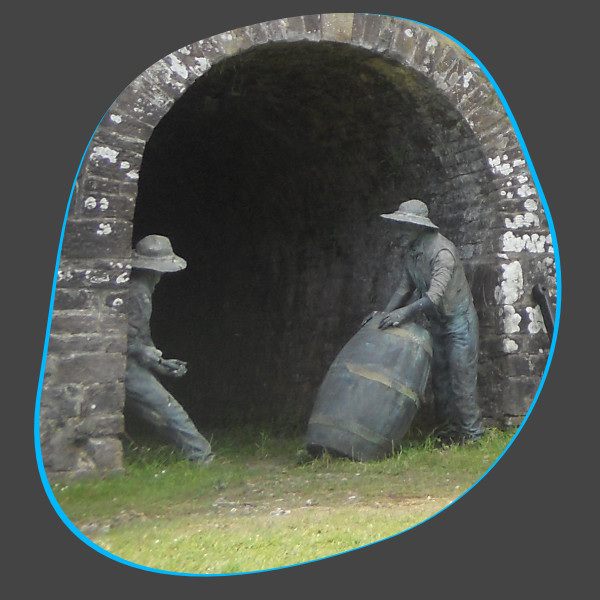 Over 200 years of history
The Monmouthshire and Brecon canal built in the 19th Century is now over 200 years old.
It was built by Navigators or Navvies across the challenging south wales terrain to speed up and reduce the cost of transporting of such things as coal, lime, iron and other local products. Goytre wharf has some of the best preserved lime kilns, one of which still has the hole in the top where the layers of coal and lime stone were poured.
After firing the kiln to roast the iron ore it was allowed to cool so the lime could be dug out of the bottom through the draw arches. The lime was put in barrels to keep it dry and then shipped by horse and cart to waiting canal boats for onward transportation. There are interpretation boards around the site explaining how the kilns worked.
machine cottage
The cottage adjacent to the kilns and canal aqueduct was originally called Machine Cottage housing the weighing machinery and toll collectors office.
 The cottage is now called Aqueduct cottage and has been converted into a cosy holiday let.
This part of the canal dates back to the beginning of the 19th century and was a vital link to the industrial development of the area. Lime was important as a fertilizer for agriculture and as a building material mixed with sand to make mortar, and as white wash. Production ceased at the wharf in the late 1800's and it gradually fell into disrepair as cheaper ways of producing lime was discovered.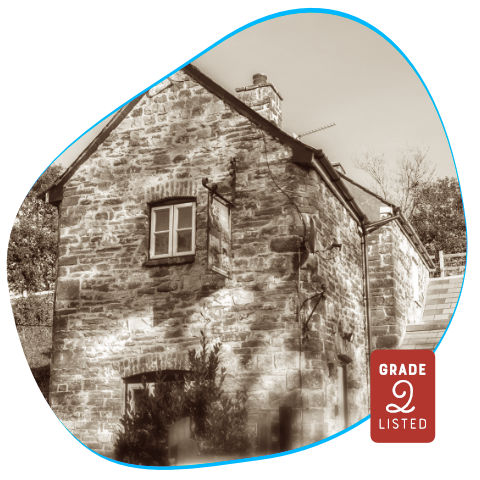 In the 1960's the canal was restored coming under the newly formed British Waterways, now called The Canal & Rivers Trust. At this time the wharf was just a home for some private boats and the Redline Boats hire fleet.
In the 2000's Goytre Wharf was restored changing its character totally when it became the Goytre Wharf Heritage and activity centre making an ideal venue for a full day of picnics and walks amid beautiful surroundings. It has a mooring basin with an eclectic mix of boats, café and trails through the forested area, along with the chance of seeing the abundance of wild life that has made the wharf and canal its home.
This aerial view of the Wharf was taken before it was restored as a visitor attraction. Now it houses our boat hire operation, including canoe hire and day boat hire, a cafe, modern moorings, 4 bed holiday cottage and a maintained site for visitors to engage in great walks, fishing and other activities.